How to Coordinate a Player Transfer by Private Message
A can be initiated with another player in the Ignition Casino Forum. (Click here if not already registered). We strongly recommend adhering to the following 'Best Practices' when coordinating a Player Transfer trade:
All communication should be conducted within the Forum.

Utilize P2P services that forbid payment reversals (Zelle or Cryptocurrency)

Before a trade is initiated in the Forum, the buyer must provide the seller with his/her username.

For full transparency, request/post transaction confirmation screenshots wherever possible.

Remain active throughout your trade and close all completed threads.

Should you notice or are concerned with any suspicious activity, please flag it in the Forum and/or relay to a moderator immediately.
For an example of coordinating a trade, follow the optional steps below:
Funds transferred BEFORE the Player Transfer is sent
1. You, the buyer, transfers money to the seller and then they initiate a Player Transfer withdrawal upon receiving the funds.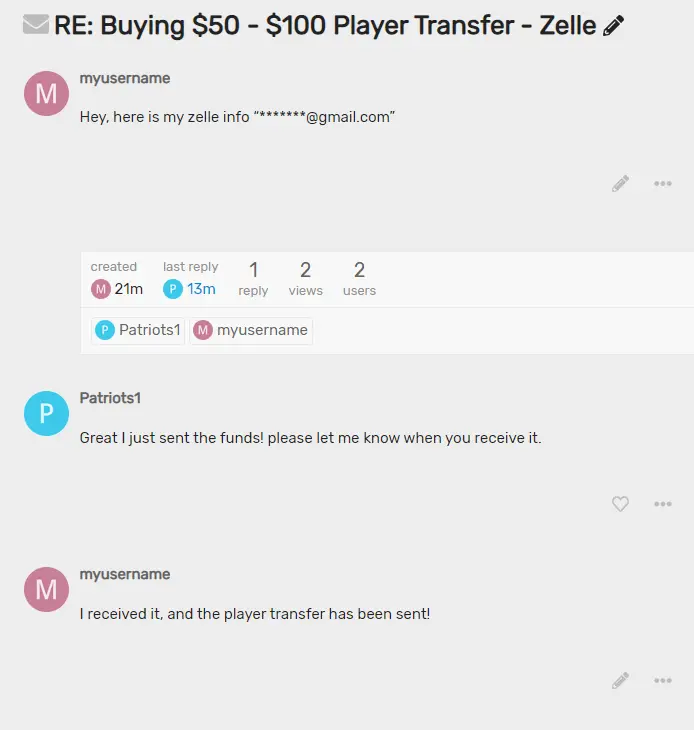 2. Once the Player Transfer withdrawal is completed and the funds are received, close the Private Message thread.

DISCLAIMER: By trading Player Transfers for the purpose of depositing or withdrawing funds to and from your Ignition Casino account, you agree in full to the Player Transfers - Terms of Use.
Did you find what you were looking for?